Returns
Unfortunately since these are custom, made to order dresses, they are non refundable.
Accessories can be exchanged within 14 working days.
Sample sale dresses can be exchanged within 5 working days, after receiving the order.
All items being exchanged must have all tags intact and accompanied by its original invoice.
Sizing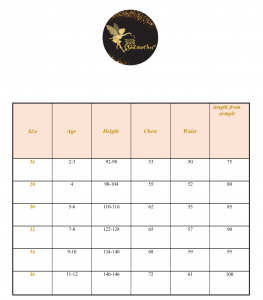 Terms & conditions
All dresses require a 50% deposit at the time of ordering, with the balance to be paid in full
before the dress is collected in store or posted across.
All deposits on your chosen dress are non refundable and non transferable under any
circumstances. Hence, kindly make sure you are completely happy when you say Yes to your
dress.
The lace material and embellishments could slightly differ from the original design on the
sample piece. This occurs only , if the original lace / embellishments on the sample is no
longer available. The new material if used, will be of similar quality standard as the sample.
We do take down the name of the school, to try and avoid duplications of the same dress in the same school. Sometimes some dress patterns could be available in other stores, but
there is a very slim chance of duplication.
The entire Sparkle princess collection is exclusive to Kid's Fashion / Fairy Godmother. (If collaborating with other stores, will make sure its one dress pattern per school for the
entire Sparkle princess collection. )
Most dresses are dry cleanable after use. But some dresses are hand wash only, due to embellishments. Please do confirm the same with the tags attached or in store.
Facebook reviews